View
Regional Workshop on Reviewing Results of Regional Mutants Multilocation Trials (RMMT) 27-31 Oct. 2003, Manila, Philippines
Name

admin

Date

2005.03.15

Views

4269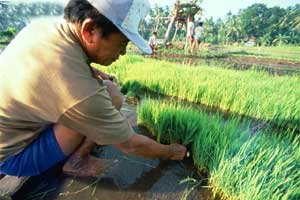 IAEA/RCA Regional Workshop on Reviewing Results of Regional Mutants Multilocation Trials (RMMT) will be held in Manila, Philippines in 27-31 October 2003.
The main purpose of this event is to review and evaluate achievements in the implementation of the IAEA Regional Project on "Enhancement of Genetic Diversity in Food, Pulses and Oil Crops and Establishment of Mutants Multilocation Trials (RMMT) and summarized results achieved through the implementation of this project. The meeting will also focus on presentation of new mutants/mutant varieties developed under the project. Methodology related to the isolation, characterization, agro-botanical evaluation and genetic analysis of newly obtained radiation induced mutants should be presented and discussed.
Cereal (wheat and sorghum), legumes (soybean, mung bean) and oil crops (groundnut and sesame) are the major crop product (in addition to rice) in the RCA Region. Hundreds of new varieties have been developed by using induced mutants and commercially utilized; mutation technique has been playing a significant role in crop improvement in the Region.
To meet the new challenges of crop production and fully exploit the potential of mutation technology and induced mutants in the Region, a region technical cooperation project was initiated and detailed work plans was established during the Project Formulation Meeting, held in Beijing, China, 18-22 March 2002 (RAS/5/040). The objective of this project is the genetic enhancement of these crops through the use of induced mutation to sustain breeding programs with the aim to increase their productivity and improve their quality and resistance to biotic and abiotic stresses.