View
Chairman, VAEC visited RCARO on 22 July 2003, Exchanged Views on Mutual Interests Director of Nuclear Research Institute, Dalat, Joined the visit
Name

admin

Date

2005.03.15

Views

4404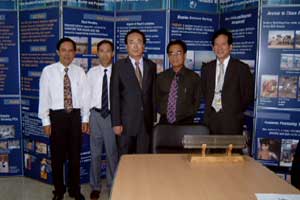 Dr. Vuong Huu Tan, Chairman, Vietnam Atomic Energy Commission (VAEC) and other delegation from Vietnam visited RCARO on 22 July 2003 and exchanged views on mutual interests, particularly on the RCARO initiated new programmes with Mr. Jin-Kyoung Kim, Director of RCARO. At the meeting, Dr. Nguyen Nhi Dien, Director, Nuclear Research Institute, Dalat, and Mr. Hoang Van Sinh, Senior Expert of the Department of International Relations and Planning, VAEC joined the visit.
The VAEC Chairman expressed keen interest on the RCARO initiated new programmes, especially on the nuclear medicine related programmes with a hope that Vietnam could more vigorously participate. Mr. J.K. Kim in return appreciated VAEC's support to the establishment and operation of the RCARO and reiterated further fruitful cooperation between Vietnam and RCA. The RCARO also explained RCA information flow activity, networking nuclear-related industry associations among the RCA Member States, and other new initiatives by the RCARO.
The VAEC Chairman and other delegation is officially visiting Korea to enhance cooperative programmes in nuclear fields between the two countries.