View
Regional Training Course on Assessment of Occupational Exposure due to Intakes of Radionuclides, 20-31 Oct. 2003 Mumbai, India
Name

admin

Date

2005.03.15

Views

4199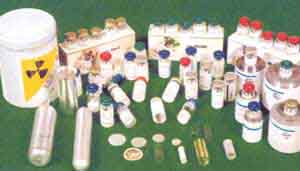 IAEA/RCA Regional Training Course on Assessment of Occupational Exposure due to Intakes of Radionuclides will be held in Mumbai, India in 20-31 October 2003.
The main purpose of the course is to provide training in principle concepts, methods and equipment used for dose assessment pf internal exposure to ionizing radiation, with emphasis on application to occupational radiation protection. The participants must be professional staff responsible for assessing of exposure due to intake of radionuclides and for managing of occupational monitoring programmes.
The training course will consist of lectures, demonstrations, practical work sessions and exercises with discussion sessions. Emphasis will be given to basic concepts, dosimetry quantities, equipment characteristics, calibration, data interpretation and dose assessment methods. Management, administration and quality assurance within the Individual Monitoring Programme will be discussed.