View
IAEA/RCA Project Lead Country Coordinators' Meeting 4-8 August 2003 at IAEA Headquarters in Vienna Refurbished and Reviewed 2005-06 Proposals
Name

admin

Date

2005.03.15

Views

4066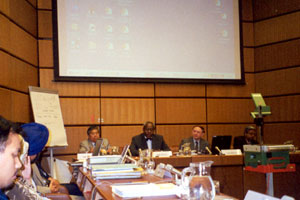 A meeting of the Lead Country Coordinators (LCCs) for IAEA/RCA thematic sectors was held in Vienna at IAEA Headquarters in 4-8 August 2003. Representatives of the RCA Regional Office (RCARO) presented at the meeting and made a presentation on RCARO's activities. LCCs participated in this year's meeting were Dr. Wang Xunqing (Agriculture, CPR), Dr. Takashi Nakano (Health, JPN), Dr. Gursharan Singh (Industry, IND), Dr. Andreas Markwitz (Environment, NZE), Dr. Man-Ki Lee (Energy, ROK), Dr. Byung-Jin Jun (Research Reactor, ROK), Dr. John Easey (Radiation Protection, AUL) and Dr.Mohamed Safuan Sulaiman (ENO, MAL). The meeting elected Dr. John Easey (AUL) as the Chairperson.
The IAEA funded RCA projects are being implemented for 2-year cycles and under the category of thematic sectors. The meeting this time aimed at preparing the 2005-06 cycles projects. The main objectives of the meeting were; to review the project proposals submitted by the Member States (MSs) for 2005-06 programme, to agree on the thematic sector projects for 2005-06, their prioritization applying the IAEA TC criteria and budget availability, to interact with the IAEA Technical Officers (TOs) regarding technical merits of the proposals, and to provide inputs to project write-ups.
At the opening, Dr Peter Salema, Director, Division for Africa, East Asia and the Pacific (TCPA) reiterated that the Agency sincerely hopes that the RCA projects should address the real needs of the region, should have social and economic impact, should demonstrate distinctive advantages of using nuclear technologies compared to conventional methods, and should exhibit strong government commitment to the projects.
At the meeting, RCARO made a presentation detailing the activities of the Office with the firm intention to assist the Member States. RCARO also emphasized its information flow endeavors that are focused on increasing RCA awareness to the RCA stakeholders and the public.
The 2005-06 projects reviewed and prioritized by the LCCs will be tabled on the 32nd RCA General Conference to be held in Vienna on 17 September 2003 for endorsement. At the meeting, it was also recommended that the current RCA Operating Rules and Guidelines should be revisited to reflect proper mechanism for cooperation and coordination among the LCCs and National RCA Representatives, each project coordinators, IAEA's national project coordinators and other related authorities.