View
Progress Assessment Meeting to Review and Evaluate the Analytical Data in Support of Urban Air Quality Management 10-14 Nov. 2003, Bangkok, Thailand
Name

admin

Date

2005.03.15

Views

4134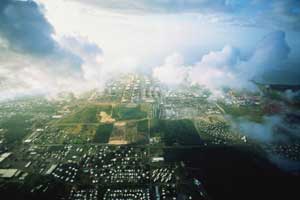 IAEA/RCA Progress Assessment Meeting to Review and Evaluate the Analytical Data in Support of Urban Air Quality Management will be held in Bangkok, Thailand in 10-14 November 2003.
The focus of the project is on the significant likely impact of particulate air pollution on human health and the potential mitigation of these impacts by identification and quantitative apportionment of the particulate matter sources. In recent years, RCA MSs have started to set in place policies and legislation for air pollution abatement.
The source resolution capability developed among the participants of the project is extremely important for the development of effective and efficient air quality management strategies that also include the understanding of national and transboundary sources of pollution. The project has developed an initial network of end-users for the data and the resulting source apportionment. It will also assist the participating countries in initial accountability assessment of the effectiveness of air quality management programs being implemented.
Major objectives of the meeting are:
- To review and assess the progress and achievements of the project
- To identify major technical problems and propose remedial actions
- To discuss data evaluation and interpretation
- To review and update the work plan for 2004 and 2005-2006
- To identify and update needs for 2004 and 2005-2006, including expert services, fellowships, equipment,
supplies
- To review functioning and contribution of Regional Resource Units (RRUs)
- To assess the role of the Lead- and Assisting Lead Country Coordinators
- To review the role and involvement of end-user institutions
- To draft prospectuses of the workshops/training courses to be held in 2004 and 2005-2006