View
32nd RCA General Conference on 17 Sep. 2003 IAEA Headquarters, at Vienna Member States Endorse 2005-06 RCA Projects RCARO will Participate in Quadripartite Meeting
Name

admin

Date

2005.03.15

Views

4211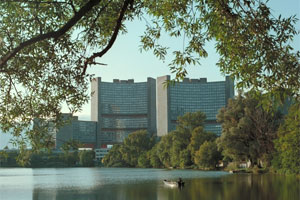 The 32nd RCA General Conference (GC) will be held at IAEA Headquarters in Vienna on 17 September 2003. National RCA Representatives from 17 RCA Member States (MSs) will participate in the GC. MSs will discuss major RCA policy level matters and decide on some impending issues. It is also expected that MSs will endorse the 2005-06 cycle RCA projects that have been carefully reviewed and prioritized by the Lead Country Coordinators (LCCs).
At the GC, it is also expected that MSs will adopt the RCA GC Resolution on the Establishment and Operation of the RCA Regional Office (RCARO) that will provide a basic legal provision to the Office. Also, some issues related to the RCA management such as the Regional Resources Units (RRUs), outsourcing of RCA event by the MSs, revisiting the current RCA Rules and Operating Guidelines, cooperation with other international and regional organizations, and so on will be discussed.
In connection with the 32nd RCA GC, as a general practice, the Chair countries meeting will be held on 14 September 2003 at the IAEA Headquarters. The RCA Chair countries are Korea (immediate past Chair),
Sri Lanka (current Chair) and Pakistan (immediate next Chair). Also, the 4th RCARO Advisory Committee (AC) meeting will be held on the previous date (13 September) at the same premise. Members of the RCARO AC are the three Chairs countries when the establishment of RCARO formally agreed by the 23rd National RCA Representatives (Dhaka, Bangladesh, March 2001: India, Bangladesh, Korea), the RCARO host country (Korea), Australia and China representing other MSs.
On 18 September, the quadripartite meeting will be held at the Austria Center, Vienna (ACV). Representatives from four regional cooperation structures established under the aegis of IAEA will exchange information on the basis of the technical co-operation among developing countries (TCDC). The four Agreements are RCA (Asia and the Pacific), AFRA (Africa), ARCAL (Latin America and the Carrebian) and ARASIA (Middle East). Representing RCA will be the three Chair countries (ROK, SRL, PAK) and New Zealand as the Lead Country for the Environment projects. It was agreed at the Colombo NRM that success stories of the Environment area be highlighted at the quadripartite meeting. RCARO will also participate in the meeting to introduce its activities.