View
International Symposium on Medical Emergency Preparedness Need to establish Networking between Asian Countries and WHO suggested 20-21 November 2003 at KIRAMS, Korea
Name

admin

Date

2005.03.15

Views

3948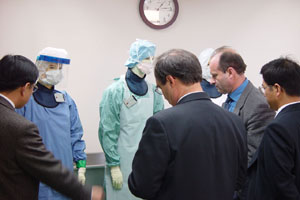 International Symposium and Workshop on Radiation Emergencies for Medical Preparedness and Assistance (REMPAN) was held at the National Radiation Emergency Medical Center of the Korea Institute of Radiological and Medical Sciences (KIRAMS) in Seoul.
At the symposium, the representative from WHO (World Health Organization) suggested the need to establish a networking amongst northeastern Asian countries to exchange information and experience on medical preparedness of radiation emergencies when occur.
The meeting mainly dealt topics related to medical response systems on the occasion of radiation hazards.
Participants from various countries discussed on types and characteristics of radiation hazards, research trend on the treatment of radiation affected patients, possible co-operation with WHO to this effect and more. Dr Istvan Turai, expert for REMPAN of WHO said at the meeting that quick information exchange is more imperative than ever to deal with the radiation emergencies when occur and subsequent medical treatment. The RCARO expressed keen interest in contributing to the networking when established if Member States wish to do so.