View
The 49th RCA General Conference Meeting held on 18 September 2020
Name

rcaro

Date

2020.09.18

Views

325
The 49th RCA General Conference Meeting held on 18 September 2020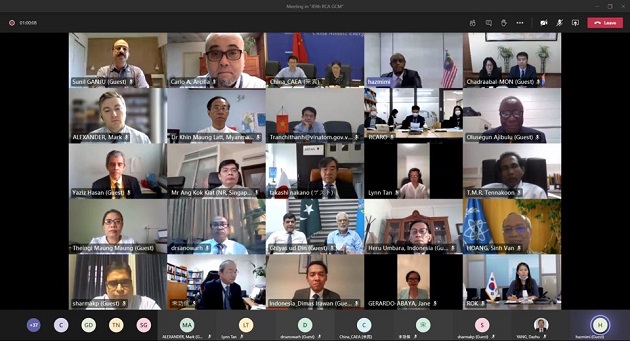 The 49th RCA General Conference Meeting was held on 18 September 2020. Delegates from 21 RCA Government Parties, the Chair of the RCA Programme Advisory Committee and representatives from the RCA Regional Office participated in the meeting. It was also attended by Mr Dazhu Yang, DDG-TC, Ms Jane Gerardo-Abaya, DIR-TCAP, Mr Gashaw Gebeyehu Wole, SH-TCAP1, Ms Marina Mishar, SH-TCAP2, Mr Sinh Van Hoang, RCA-FP. The meeting was held virtually in the same manner as the 42nd Meeting of the National RCA Representatives held last April due to the prolonged Covid-19 pandemic.
Mr Abdul Muin Abdul Rahman, RCA Chair, and Mr Dazhu Yang of the IAEA delivered their statements to open the meeting and welcome the participants. The meeting dealt with RCA strategic management matters, especially on the efficient usage of project funds and planning of the future RCA Programme under this unprecedented situation of global pandemic. The Special Task Force for the 50th Anniversary of the RCA also reported their work plan and draft activities to celebrate the anniversary in 2022. It encouraged support of the Government Parties for preparation of the events, noting that their active involvement will be key to success. Other issues, including the extension of the IAEA-RCARO Practical Arrangements, were reported and discussed during the meeting.
In comparison with the previous experience of conducting a virtual meeting of the National RCA Representatives in April, this meeting proved the enhanced capabilities of the RCA stakeholders to organize and participate in online events. The next meeting of the National RCA Representatives – the 43
rd
NRM – is planned to be held in April 2021, the specific date and modality to be confirmed subject to the regional status under the Covid-19.