View
The First RCARO/ASEANTOM Regional Training Course held on 7-11 October 2019 in Bangkok, Thailand
Name

rcaro

Date

2019.10.14

Views

788
The First RCARO/ASEANTOM Regional Training Course held on 7-11 October 2019 in Bangkok, Thailand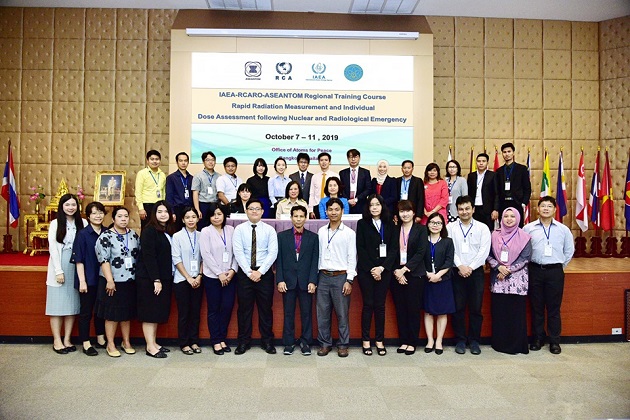 The Regional Training Course on Rapid Radiation Measurement and Individual Dose Assessment following Nuclear and Radiological Emergency was held on 7-11 October 2019 in Bangkok, Thailand. It was attended by more than 40 participants and representatives from 9 RCA/ASEANTOM Government Parties, the International Atomic Energy Agency (IAEA), the RCA Regional Office (RCARO) and the Office of Atoms for Peace (OAP) in Thailand.
During her welcome remarks at the opening ceremony, Ms Vilaivan Tanjoy, Secretary General of the OAP, expressed her expectations of not only achieving the regional priority need in Emergency Preparedness and Response through the event but also strengthening the partnership between the RCA and the ASEANTOM.
The training course provided the participants with lectures that contributed to enhancing their understanding of radionuclide behavior in the environment and individual dose assessment in human as well as hands-on practices on sample preparation, gamma-ray spectrum analysis and dose assessment methods.
Based on the success of this first regional training course conducted under the cooperation between the RCARO and the ASEANTOM, the two bodies are expected to work together more closely and actively for the development of radiation safety in the region.