View
The 25th Meeting of National RCA Representatives 26-29 May 2003, Colombo, Sri Lanka
Name

admin

Date

2005.03.11

Views

4705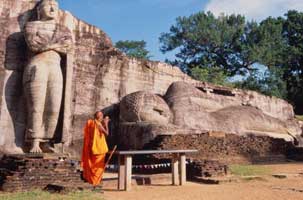 The 25th Meeting of National RCA Representatives will be held at Galadari Hotel, Colombo, Sri Lanka, 26-28 May 2003 by the host of Sri Lanka Atomic Energy Authority (AEA) and supported by the International Atomic Energy Agency (IAEA). Inauguration of the meeting will be on Monday, 26 May 2003 at the Ball Room of Galadari Hotel while main sessions will follow right after the inauguration.
It is expected that Prof. (Ms) Rohini Hewamanna, the incoming Chairperson of Sri Lanka Atomic Energy Authority will chair the meeting on behalf of the host country. It is also expected that Mr. Peter Manase Salema, Director, Division of Africa and East Asia & the Pacific, will represent the IAEA.
Participants to the meeting will be delegates from 17 RCA Member States, representatives from RCA Regional Office (Mr. Kim, Jin-Kyoung, Director), diplomatic missions from the RCA Member States and local nuclear related persons as well.

This annual meeting of National RCA Representatives will mainly deal with reviewing the on-going RCA projects as well as seeing to the 2005-06 cycle project proposals. Also, matters about RCA management, progress of the RCA Regional Office, RCA visions and other matters will be discussed, respectively. On 29 May 2003, a visit to Sri Lanka atomic energy facilities is planned. However, the main spirit of this RCA meeting places on how peaceful nuclear technology can contribute to the socio-economic development of the region.

In connection with the meeting, the RCA Chair Countries meeting will be held on Saturday, 24 May at the venue. This year, the RCA Chair Countries meeting participants will be Bangladesh, Korea, Sri Lanka, Pakistan and the RCA Coordinator. With regard to the RCA Regional Office matters, the Advisory Committee of the Office will also be held at the venue on Sunday, 25 May late afternoon. Members of the Advisory Committee are Australia, Bangladesh, China, India, Korea and the RCA Coordinator.
At present, the acting RCA Coordinator of IAEA is Mr Mohd Nordin Razley. He has dual capacity as Section Head, East Asia and the Pacific Section of IAEA.

The Colombo meeting embraces some significant meanings. The RCA was established in 1972. The formal name of the host country, Sri Lanka, was created in 1972 after long use of Ceylon. Therefore, the milestone of RCA goes along with the progresses of the Democratic Socialist Republic of Sri Lanka. The other significance is that the meeting is being held in the holy month of May according to the Buddhism heritage. And there are more to mention.

For more information, please contact:
Mr. J M C A Jayasinghe, Scientific Secretary, Sri Lanka Atomic Energy Authority and National RCA Representative of Sri Lanka (Tel) 94-1-533 427 and srlaea@slt.lt.

Also, Mr. H G P Karunaratne, Head, International Division, Sri Lanka Atomic Energy Authority who is the Chief Local Organizer of the meeting (Tel) 94-1-533 448 and also srlaea@slt.lt for email.