View
The 4th Meeting of the STF for the 50th Anniversary of the RCA held on 17 Nov. 2021
Name

rcaro

Date

2021.11.17

Views

378
The 4th Meeting of the STF for the 50th Anniversary of the RCA held on 17 Nov. 2021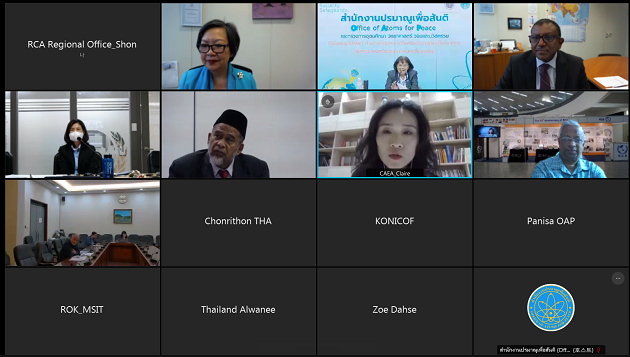 Upon the approval of the 50th RCA General Conference Meeting (GCM), the 4th Meeting of Special Task Force (STF) on the preparation of the 50th Anniversary of the RCA was held virtually on 17 November 2021. Then Meeting was attended by the members of the STF - Thailand, China, Korea, Malaysia, Viet Nam, IAEA and RCARO, and the RCA PAC Chair as an observer.
The Meeting discussed the plan and progress of the preparation of the RCA 50th Anniversary, including the Ministerial Conference, RCA Exhibition and other relevant activities. In particular, the work plan and agenda of the Ministerial Conference as well as draft Ministerial Declaration have been reviewed. In addition, detailed work plans for preparing for the RCA Exhibition and developing an anniversary video and website have been reviewed and confirmed. The STF also discussed on the other issues such as the publications and RCA Awards.
Taking into consideration necessary subjects that need further discussion, the Meeting agreed to convene again prior to the 44th Meeting of the RCA National Representatives (NRM), to be held in April 2022.